Preparation H Soothing Wipes
Provide gentle everyday cleansing comfort at home or on-the-go.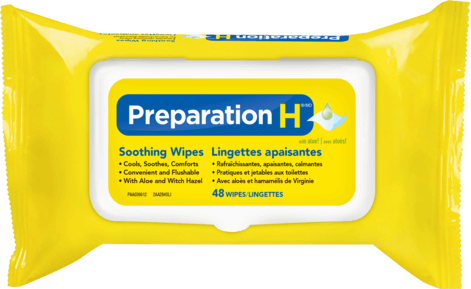 Features:
Gentle everyday cleansing wipes
Cools, Soothes, Comforts
Convenient and Flushable
With Aloe and Witch Hazel
Can be used with other Preparation H products
Sizes
Preparation H Soothing Wipes are available in packs of 48 wipes.
Description
Preparation H Soothing wipes provide everyday cleansing comfort, on-the-go or at home. It's the perfect alternative to dry toilet paper and conveniently flushable, made from 100% plant-based material.
Directions: Unfold wipe and cleanse the area by gently wiping, patting or blotting. If necessary, repeat until all matter is removed and then discard. Use up to 6 times daily or after each bowel movement and before applying topical hemorrhoidal treatments. Flush only one or two wipes at a time.
Caution:
Keep out of reach of children. For external use only. Talk to a doctor regarding use if experiencing persistent rectal bleeding.
Store at room temperature.
Contains: Hamamelis virginiana (witch hazel), aqua, glycerin, propylene glycol, diazolidinyl urea, methylparaben, aloe barbadensis leaf extract, capryl/capramidopropyl betaine, sodium citrate, citric acid, propylparaben.