Preparation H Suppositories
Soothes and relieves local discomfort associated with hemorrhoids. Perfect for nighttime relief.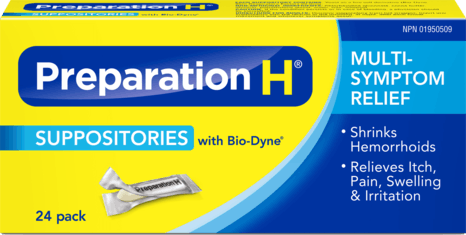 Features:
Reduces internal hemorrhoidal swelling
Perfect for nighttime relief
Relieves itch, pain, swelling and irritation from hemorrhoids
Shrinks swollen hemorrhoidal tissue
Sizes
Preparation H Suppositories are available in 12, 24, and 48 count packages.
Description
Preparation H Suppositories provide soothing relief from internal swelling, itching and discomfort. Perfect for nighttime relief.
Regular application with Preparation H Suppositories provides continual therapy for relief of hemorrhoidal symptoms.
Directions for adults: Remove suppository from foil wrapper. Insert one suppository into the rectum in the morning, at night, after each bowel movement and whenever symptoms occur.
Caution: If the condition persists or in case of bleeding, a physician should be consulted. Keep safely out of the reach of children.
Store at room temperature (15°-30°C).
Contains: Yeast as a live cell derivative (Bio-Dyne: Skin Respiratory Factor) 22.0 mg. Non-medicinal Ingredients: Chlorhexidine gluconate, cocoa butter, glycerin, polyethylene glycol, water, wax, witepsol.